BSM Treble Boosters, exclusively Handmade
Welcome to the fantastic world of BSM Finest Treble Boosters!
Hello, we would like to introduce our gorgeous Treble Booster machines, exclusively handcrafted by BSM for you. We hope you will enjoy your ride to a new territory of musical tone and flexibility. If you have any questions concerning our products, our tech-head and mastermind Mr. Bernd C. Meiser would be happy to talk to you. So don't hestitate any longer and send him an email to info@treblebooster.net to contact him directly.
You can download a pictured short-info sheet with all available boosters, this will give you a complete first overview about our product range. You can also download a short text summary about all available boosters.
Don't forget to visit our Facebook Page.
New BSM Treble Booster
Black Box Booster
Here's the next strike from BSM: a powerful preamp/booster! 40 years after the release of "Back in Black" Bernd Meiser took the idea of Angus Y. playing not only live but also in the studio with his Schaffer Vega wireless device for extra gain, brillliance and compression. Bernd did not make a simple copy of the circuit but came along with his own ideas to realize the functions. It is designed to hit the high treble input of a British style amp with medium output pickups hard. What came out is a real monster, working from 9 to 18 volts.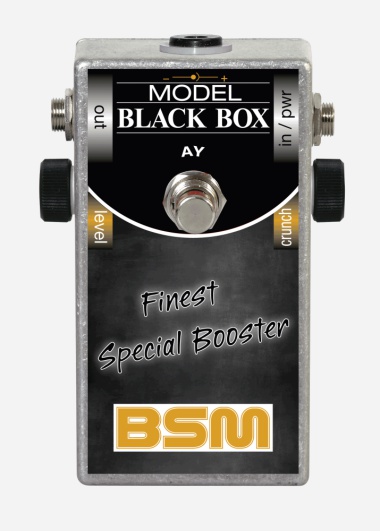 Booster Details
Starbreaker Booster
The tube power amp simulator "Starbreaker" is based on the generation of an asymmetric "tanh(x)" as transfer function. It is - typical BSM - completely built with discrete silicon transistors and no OPs. By a mini-switch the overtone range can be manipulated in two ways. The unit works fine with all PU types but its design-center is a Strat with modern SC-PUs. The Saturation knob allows the adjustment of light crunch over fat sounds up to to hefty distortion. The Starbreaker works exclusively with +18V DC at 8mA current consumption.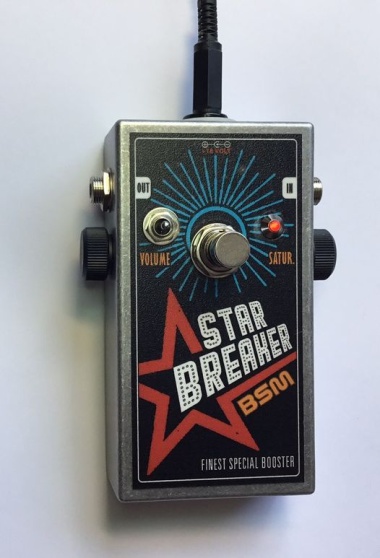 Booster Details