BSM VX-T Treble/Mid Boost
The BSM VX-T model is based on the british Vox Treble & Bass booster, made in the late 60's and used by many british bands at this time. Here is an almost identical copy of the second issue of this Vox unit, but with increased gain and a slightly modified tone network, pronouncing the mid frequencies and making the VX-T the perfect treble-midrange booster. So the sound of the VX-T is placed in between the VX-C Classic Treble&Bass booster and the RMG Treble Booster. The VX-C Classic offers a more vintage orientaded tone control with some good low end, while the RMG adds more twang and spank to the tone. The VX-T model includes a tone control which allows an extraordinary amount of versatility. When setting the tone-pot to maximum, the unit will produce a very glassy tone - like the "jinge jangle" sound of Roger McGuinn during his mid 60s time with the BYRDS, but with more gain than the RMG and VX-C. When a middle setting is dialed in, the result is a punchy tone with mild highs and a tight an powerful bass bottom. If set to minimum, the unit produces a bluesy bottom with enough mids and a little bit of shimmering highs, but the bass is never getting wooly, like the VX-C Classic can do.
Almost all British rock guitarists using single coil pickup guitars used some type of germanium booster from the late 60's to the mid 70's. By the end of the seventies, these boosters were replaced by a new circuit from Japan, the so called Tube Screamer and other similar overdrive circuits. These were based on the old boosters and therefore had a very similar frequency response. The germanium boosters on the other hand, sadly fell into oblivion despite their unique and inimitable sound.
The VX-T Booster is 100% true bypass and inserted between the guitar and the amplifier, not into the FX loop. The magical tone is achieved by the interaction between guitar pickup, booster and amplifier. The unit is powered by a single 9V battery with a current consumption of aprox. 35 mA. The average output level is 3dBm, the maximum output voltage when the strings are struck really hard is 3V max. For even more clean headroon, you can also power the unit with 18V.
Note: The negative pole of the battery is ground.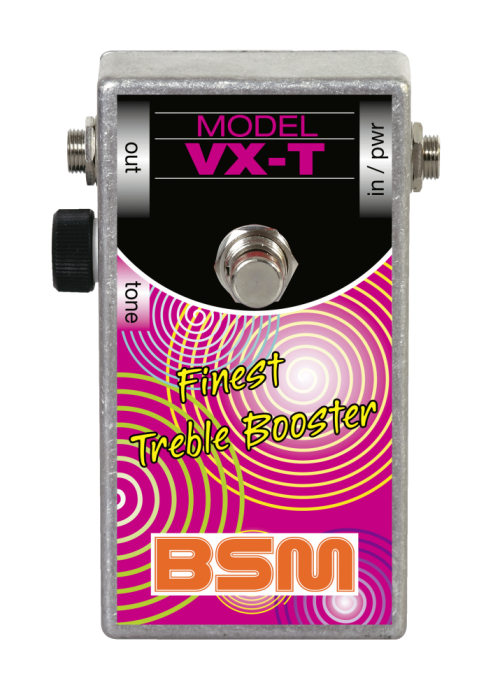 If you have any questions concerning our products, especially the
BSM VX-T Treble/Mid Boost
, our tech-head and mastermind Mr. Bernd C. Meiser would be happy to talk to you. So don't hestitate any longer and send him an email to
info@treblebooster.net
or use the
contact form
to contact him.
Reviews
Hello Bernd, I would like to say to you, that I am really shocked by the quality tone I can get from this gadget (VX-T). Much, much better than I expected, (and I have been playing guitar for 18 years). I am very happy with this purchase and I am enjoying very much. I am going to try to find some free time to submit a review in Harmony Central because this pedal deserves it. Take for granted that we will make another deal in the future. Thanks for all. Best Regards
Ángel Luis Tricas Rivarés
The VX-T is a great piece for shaping tone...I can't live without it...
Tony Haselden
Hi Bernd, I am VERY happy with my VX-T and the newfound tone of my set up. It adds great sustain, takes the bright treble away from my THD Univalve amp and provides a total new level of clarity with crisp punch at manageable volume. I have an HSS Strat and think I prefer the tone with the single coils but both are good and an improvement. I find that I can't use the tone control above about 80% as my setup thins right out above there but this doesn't matter as the range of tone below this point is just great! Thanks very much. Please email me your bank details so I can pay you! Kind regards
Dennis Mahaven
Hallo Bernd, Also, der VX-T mit 5dB mehr ist super für meinen AC-15. Heidewitzka! Mit meiner Esquire ein Traumpaar! Und der VX-T + 8dB ist zu heavy für den AC-15. Da geht der Kleine schon zu sehr in die Knie und kann nicht mehr richtig atmen. Aber für meinen AC-30 ist er natürlich genau richtig...... Alles in allem eine schwierige Entscheidung, aber ich denke, das ich den VX-T + 5dB behalte und Dir schweren Herzens den "+8" morgen zurückschicke .....und das Geld natürlich überweise.
Till Hoheneder
Hallo Bernd, VX-T Booster kam Dienstag an. Beim "Solo"-ausprobieren habe ich gedacht: Gut, schöner Sound, vielleicht etwas harsch. Habe mein Emma-Pedal im A-B Vergleich gespielt und sagte mir: Das kann das Pedal genauso gut. Bei der Probe mit der Band kam das große AHA! Weil der Booster sich einfach besser durchsetzt im Bandkontext. Ich konnte mein Solo hören......und die anderen auch!!!!!! Na jedenfalls konnte mir keiner für den Rest der Probe das Grinsen aus dem Gesicht kloppen! Das Ding kriegst du nicht wieder, werde gleich das Geld überweisen. Also alles Gute, danke für dein Engagement und bis die Tage. Gruß Till
Till Hoheneder