BSM OR Treble/Bass Booster
The BSM OR model is based on the Orange Treble & Bass booster made in the late 60's in England. The OR model includes a tone control which allows an extraoridinary amount of versatility. When set to maximum, the unit produces a very glassy tone. When a middle setting is dialed in, the result is a punchy tone with a mids emphasis. When set to minimum, the unit produces a very bassy tone with a fat bottom end. The long yearned new edition, now issued under the name OR from BSM, includes the same germanium transistors as the original 1960's version.
Almost all British rock guitarists using single coil pickup guitars used some type of germanium booster from the late 60's to the mid 70's. By the end of the seventies, these boosters were replaced by a new circuit from Japan, the so called Tube Screamer and other similar overdrive circuits. These were based on the old boosters and therefore had a very similar frequency response. The germanium boosters on the other hand, sadly fell into oblivion despite their unique and inimitable sound.
The Treble and Bass Booster is inserted between guitar and amplifier, not into the FX loop. The magical tone is achieved by the interaction between guitar pickup, booster and amplifier. The unit is powered by a 9V battery with a current consumption of approx. 400 uA. The average output level is 9dBm, the maximum output voltage when the strings are struck really hard is 7V max. Note: The positive pole of the battery is ground.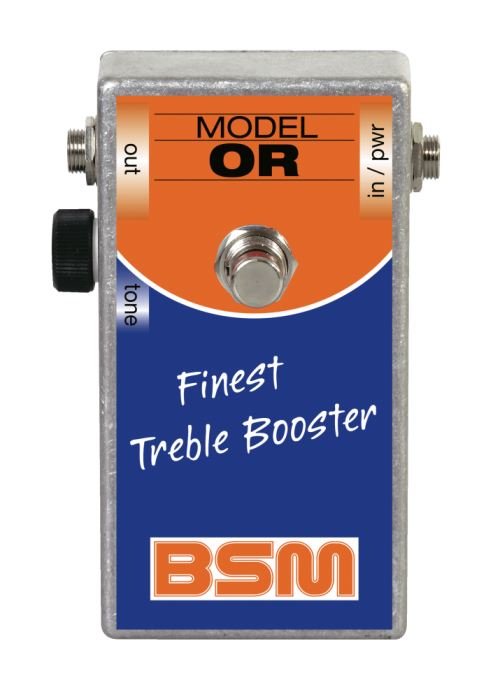 If you have any questions concerning our products, especially the
BSM OR Treble/Bass Booster
, our tech-head and mastermind Mr. Bernd C. Meiser would be happy to talk to you. So don't hestitate any longer and send him an email to
info@treblebooster.net
or use the
contact form
to contact him.
Reviews
Hallo Bernd, habe mir am Wochenende zu Testzwecken Deinen OR Booster #1563 beim Thomann geholt. Als bekennender Gilmour-Fan fiel mir die Wahl leicht! ;-) Das Ding also zwischen meine Strat und einen 73er Pro Reverb gehängt, Neck PU, Ton am Booster auf Mittelstellung....und BANG!!! Da ist sie, die Magie, dieses letzte Quentchen, das mir im Sound immer fehlte. Vielen Dank dafür! Nur eine Sache stört mich ein wenig - das Grundrauschen, vor allem deshalb, weil der Fender in dieser Disziplin auch kein Leisetreter ist. Aber ich nehme an, das liegt in der (Germanium-)Natur der Sache? Egal - das nehme ich gerne in Kauf, wenn es denn so gut klingt. Die Kombination mit einem Vox Big Ben Verzerrer ist übrigens ebenso göttlich. Und ich bin gespannt, wie mein alter Hiwatt DR103 damit klingt. Schönen Gruß
Max Forster
Servus aus München, ich habe ja die Diskussion über Treble Booster in den letzten Jahren durchaus kritisch verfolgt und mir gedacht: Wer braucht denn sowas? Gitarre, Kabel, Treter und ab in den Marshall oder in den POD, etc. Doch da kam mir vor ein paar Wochen ein altes "Fachblatt" aus den frühen 80ern wieder in die Hand (ja, ich hab' die Dinger nicht weggeschmissen). Und was konnte ich da fast an allen Enden lesen? Alle hatten damals Treble Booster. Dann stieg ich mal von meinem hohen Ross ab und hab mir den "OR" zugelegt.... ob vor dem Stack oder auch vor dem POD: Geil. Strat auf Neck PU und ab. Wow. DAS ist der Sound der 70er, den ich lange suchte. Danke für so ein Teil. Ich liebe es. Und es war sicher nicht der letzte, den ich mir kaufte. Herzliche Grüße, G. Hölzlwimmer
Dr. Gerhard Hölzlwimmer
Hallo Herr Meiser, der OR und der FuzzBender sind heute wohlbehalten angekommen. Beide Geräte funktionieren tadellos, alles bestens!!! Der FuzzBender klingt wirklich fantastisch und sehr lebendig! Ich habe das Gefühl, dass er auf unterschiedliche Töne auf dem Griffbrett auch ganz unterschiedlich reagiert und der Klang immer wieder leicht variiert. Gerade bei leicht dissonanten Zweiklängen hat man das Gefühl er pfeife auf dem letzten Loch, dass hat fast schon etwas mysthisches an sich! Kann es übrigens sein dass der Volume Regler des FuzzBenders wie eine Art Klangregelung wirkt? Ich habe nämlich das Gefühl, dass die Bässe zunehmen (vor allem in .Fuzzface.-Position) je weiter man den Regler aufdreht! Durch Zufall habe ich übrigens einen meiner absoluten Favoriten in Sachen Lead-Sound 1:1 nachbilden können: David Gilmours schreiender Sound im Solo von .Time.. Stratocaster, OR (ordentlich Höhen reingedreht) vor den FuzzBender geschaltet, anschließend in den Amp (in meinem Fall ein Fender). Fertig ist die Gartenlaube, wirklich toll. Herzliche Grüsse und vielen, vielen Dank, bis zum nächsten Mal!
Karsten Tölle