BSM Powderfinger
A tribute to the guitar sound of Neil Young.
Manufactured in the framework of the "Twangtone by BSM"-line, the Powderfinger steps up to enable you to get that often acclaimed but seldom achieved guitar sound of Neil Young. Fully appreciating that the setup that Neil Young has put together for himself over the years may be unpractical and/or impossible to realize for most other guitar players, BSM has developed a pedal that puts every guitarist in the position to approach that Neil-Young-sound without having to call on a permanently fully cranked Fender Tweed Deluxe Amp. This approach is facilitated via the following components being included in one's setup:
A guitar sporting low-output humbuckers, preferably of the Mini or Firebird variants; possible are also vintage PAF's or P90's, or Fender-type single coil pickups with an output in the somewhat heftier range.
A tube amp able to supply – already by itself – a nicely crunching sound.
The use of a tube amp is not unimportant also due to the fact that the Powderfinger seeks to closely interact with the input tube of the amp. It is recommended to adjust the output level of the Powderfinger to rather high values (volume control on the left-hand side of the housing) such that the amp by itself is already driven into crunch-territory. The gain control (on the right hand side of the housing) will then serve to adjust the desired degree of distortion.
The mini-3-way-switch allows for a matching to different pickup- and/or amp- types. Set to the left, the treble is attenuated (e.g. when using Fender-type single coil pickups in the guitar). The middle position keeps the sound as is. The right- hand-position boosts the treble (e.g. if darker-sounding humbuckers are deployed).
The Powderfinger is connected between guitar and amplifier. In case other effects devices are also in use, the Powderfinger should be the first in the chain of effects – the only exception being a wah pedal. The magical tone is achieved via the interaction of pickups, Powderfinger, and guitar amp.
The Powderfinger is powered by a 9V-battery; the current consumption amounts to about 4 mA. Connection to an external power supply is possible, with the center pin of the corresponding jack receiving the negative voltage pole (= ground). The Powderfinger contains an integrated reverse-polarity-protection, i.e. even inverse-polarity power supplies or cables will not damage the circuit.
The output level of the Powderfinger may reach peak levels as high as 8 dBm.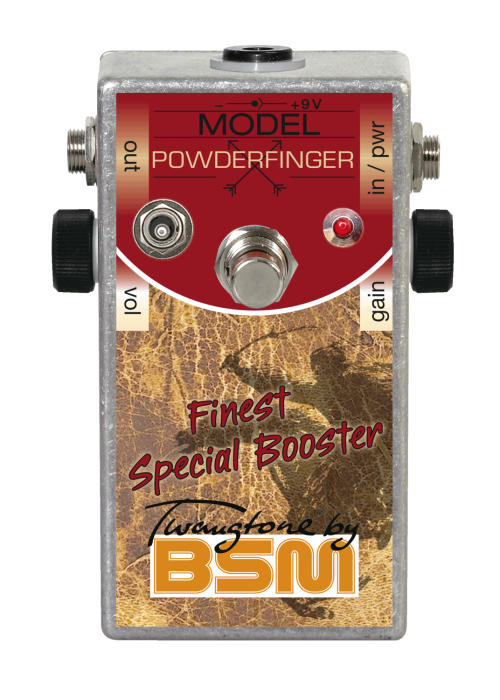 If you have any questions concerning our products, especially the
BSM Powderfinger
, our tech-head and mastermind Mr. Bernd C. Meiser would be happy to talk to you. So don't hestitate any longer and send him an email to
info@treblebooster.net
or use the
contact form
to contact him.
Reviews
Hallo Bernd, Doch jetzt zum Powderfinger: Noch nie war ich sofort von einem FX so begeistert wie von diesem Teil!!! Er ist jeden Cent wert und macht dermaßen genau das was er soll, dass ich dachte, wenn ich jetzt noch weiterspiele, kommt mir bestimmt Blut aus den Ohren. Hahaha. Dummerweise hatte ich ihn vor einen Silverface Twin mit 120er JBL-Speakern gesteckt. Was für ein genialer Neil-Sound. Die echte Durchsetzungswaffe für den Bandgebrauch! Nochmals vielen Dank für das geniale Monster. Beste Grüße aus dem starkbeschallten Gründautal,
Wolfgang