Heritage Crunch Booster
After the great success of our Supreme Special Overdrive that has become one of our bestselling pedals, BSM is introducing a second stand-alone stompbox that is not only a booster and a kind of moderate version of the Supreme, offering an outstanding fine crunch tone.
Many guitarists of the late 60s and early 70s knew how to get a rough earthy and unmistakable sound out of their humbucking pickups and tube amplifiers, which in retrospect has not been possible to recreate so far. BSM has dedicated so many booster pedals to this subject to receive these historical sounds with every tube amp, that offers a powerful clean or crunch character. But it ́s impossible to drive a treble booster pedal into saturation so the idea came up to develop a stand-alone version you can also use in front of a clean amp to get some crunch without the typical mid-honk sound and to replace the overdrive pedals on your pedalboard.
This not only works perfectly with older amps sporting only mid-gain but also in front of a clean transistor amp to receive an outstanding crunch tone that is like a pearly summer rain. To realize this the new "Heritage Crunch" Treble Booster has a lot of gain to offer but you can also use it as a linear clean boost pedal when rolling back the gain. So it ́s a kind of modern brother of the classic booster pedals, shifting the
old classic sound into our present time.
Because of its high gain potential of an outstanding 16dB variable crunch, the "Heritage Crunch" Treble Booster will work perfectly for humbucker and single coil pickups to get the best out of it. When turning back the "crunch", using the pedal as a clean booster especially the neck pickup, which often tends to sound muddy with inappropriate amp control settings, stays clear now with an unheard warm balance between bass and treble, when using the "Heritage Crunch" Treble Booster. The bridge pickup becomes tight and definite with great punch.
The "Heritage Crunch" Treble Booster is inserted between guitar and amplifier, not into the FX loop. The magical tone is achieved by the interaction between guitar pickup, "Heritage Crunch" Treble Booster and amplifier. A 9V battery with a current consumption of approx. 4mA powers the unit. The maximum output voltage when the strings are struck really hard is 2V max.
Note: The negative pole of the battery is ground.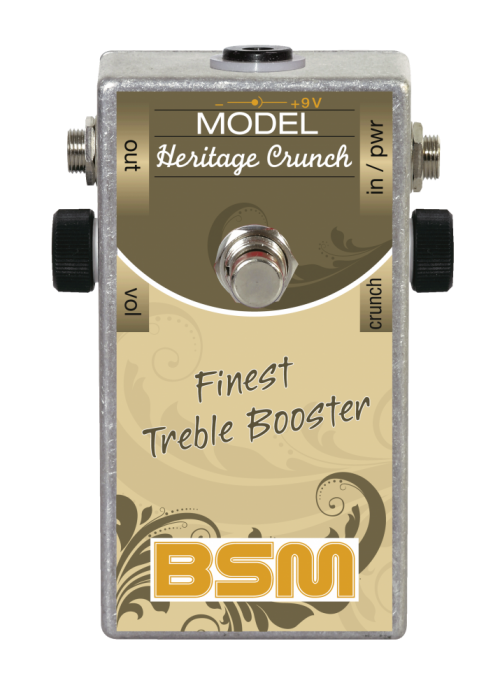 If you have any questions concerning our products, especially the
BSM Heritage Crunch Booster
, our tech-head and mastermind Mr. Bernd C. Meiser would be happy to talk to you. So don't hestitate any longer and send him an email to
info@treblebooster.net
or use the
contact form
to contact him.