BSM Ambassador Mid-Voiced Treble Booster
Based on the best classic boosters, the BSM Ambassador - a germanium treble/midrange booster, is a crossover between the Rangemaster Booster, the Orange Booster and the Winston Booster. The transistors are specially selected to pass the strict internal BSM factory QC guidelines. Classic boosters never cared about the midrange, and that's what makes the Ambassador stand out - the midrange and the treble range are both inside this little box. From crystal clear highs to fat and meaty mids, it's easy to dial in all these sounds with every common pickup. With the "color" control set to midrange, a singlecoil pickup really sounds like a PAF humbucker, and a PAF like fat and overwounded humbucker. The Ambassador is loaded with a special selected original NOS germanium transistor from the 60's, like the Winston Treble Booster was.
From the late 60's to the mid 70's almost all british rock guitarists used single coil pickup guitars and some type of germanium booster. By the end of the seventies, these boosters were replaced by a new circuit from Japan, the socalled Tube Screamer and other similar overdrive circuits. These were based on the old boosters and therefore had a very similar frequency response. The germanium boosters on the other hand, sadly fell into oblivion despite their unique and inimitable sound.
The Ambassador Booster is inserted between the guitar and the amplifier, not into the FX loop. The magical tone is achieved by the interaction between guitar pickup, booster and amplifier. The unit is powered by a 9V battery with a current consumption of aprox. 250 uA. The average output level is 7dBm, the maximum output voltage when the strings are struck really hard is 5V max. Note: The positive pole of the battery is ground.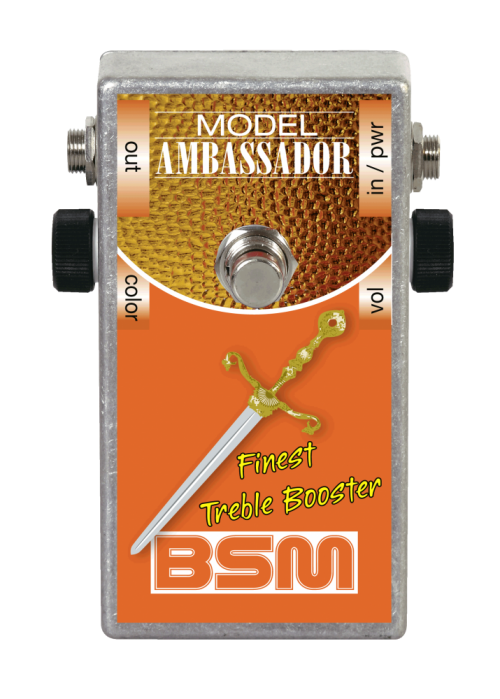 If you have any questions concerning our products, especially the
BSM Ambassador Mid-Voiced Treble Booster
, our tech-head and mastermind Mr. Bernd C. Meiser would be happy to talk to you. So don't hestitate any longer and send him an email to
info@treblebooster.net
or use the
contact form
to contact him.
Reviews
Dear Bernd! I received the pedals. I don't have words. It's simply very cool! Small boxes make a great sound. CM 71/73 is very transparent and brilliance. Strat sounds like it must do. It's very interactive with Volume control of guitar. RPA Special is more distorted and fatness, but very singing. When EQ closed, it's really Machine Head's sound. I tried it with Marshall JVM 215C combo in clean channel. It's really like JCM 800 and 4x12 Cab. Ambassador is very useful. Each position of controls makes new sound. I tried it with Ibanez TS-9DX (Keely mod), Empress Effect Multidrive and Wampler Pinnacle II. My guitar is ready to explode. You are magician. Many, many thanks! Nick, Moscow
Nick
Hey Bernd, I just wanted to say I am so impressed with this pedal and how great it works with single coil pickups in making them sound like the "Mt. Olympus" of solo rock tone! I tried this out at RockBlock Guitars with a Mexican 70's reissue Strat into a Rheinheart 18wt combo that sounded very average and twangy BUT, when the Ambassador was kicked on it was pure ass kickin' rock nirvana! Magnificent enharmonic crunch that mates perfectly with the Strat to take it into humbucking BROWN sound without the loss of the complexities that make single coils unique! The mid control is the BOMB and can be dailed for any amp it's plugged into. Fantastic ears you have and sourcing for great NOS trannies and I will be purchasing a Spectrum asap because it nails the Tommy Bolin tone like no other pedal I've ever heard. Thanx so much for making such a great product and inspirational tool!
Tommy Hatcher
Hallo Bernd, der Ambassador ist echt klasse! Er bringt wirklich feine Tonnuancen, sowohl bei alten wie modernen (Higain)amps. der Amba macht letztere tighter.
Patrick von Gunten