Blackmore's Plecs
[Deutsche Version unten]: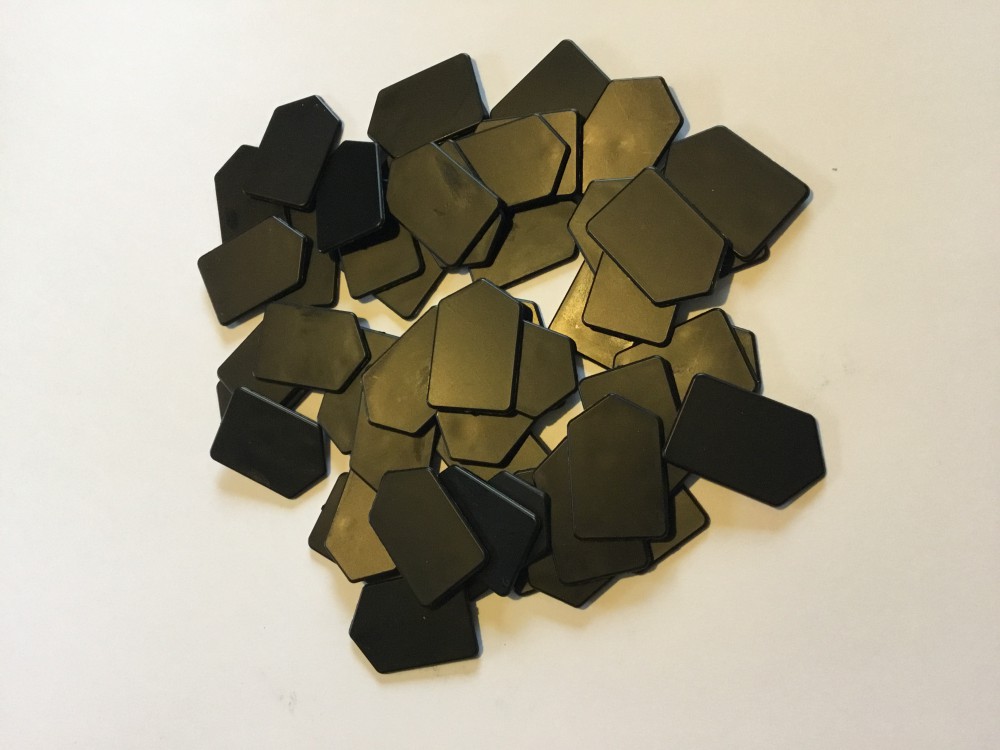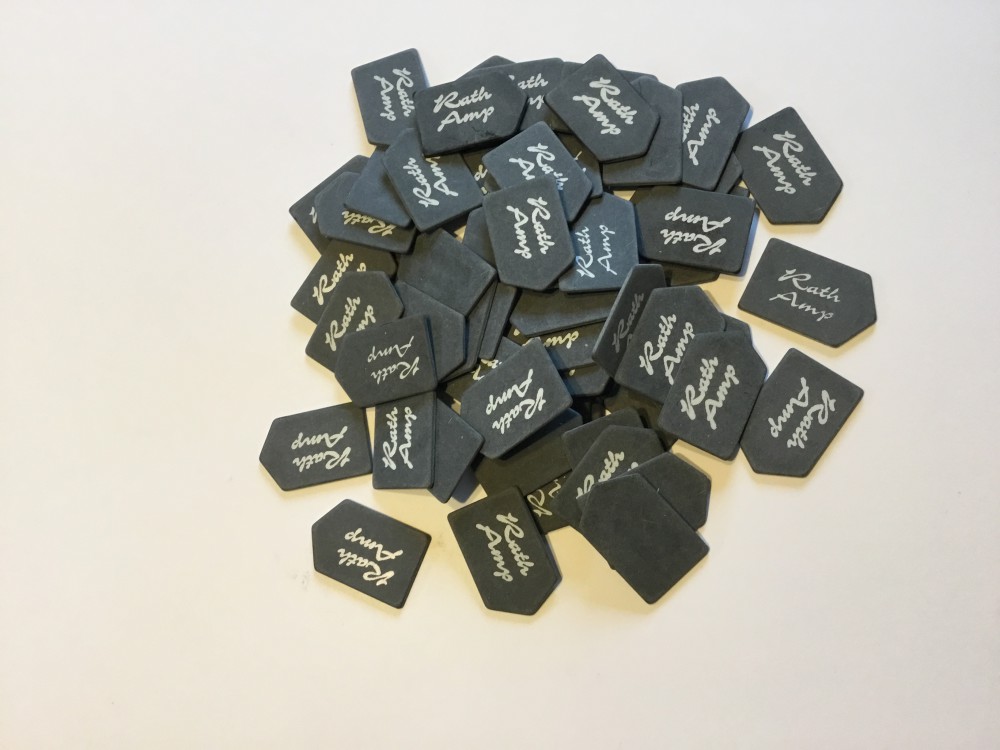 Like many other British guitarists during the 60's, Ritchie Blackmore also used the "house plate" ("house" in short) plecs out of genuine tortoise. Following the Convention on International Trade in Endangered Species of Wild Fauna and Flora the use of genuine tortoise was forbidden since the 70's. Ritchie really loved these plecs and for him the shape was simply perfect for his way of plugging the strings. During the decades the resources of still existing original "house" tortoise plecs dried out.

Since the early 80's the German electronic wiz, guitarist and my mental brother Jürgen Rath was a confessing Blackmore enthusiast. Later on, Jürgen designed the much-noticed "Cream Machine" for the Hughes & Kettner company as well as the "Red Box" and the legendary "Tubeman" before building his own successful opamp based guitar amps under his "Rath Amp" label. Because of his work he managed get in touch with Ritchie and when Blackmore played in Germany it was common that he stopped by his factory to bring in some of his Marshall Major amps for servicing and modification. It so happened that Blackmore assigned Jürgen Rath to investigate for a substitute for his beloved genuine tortoise "house" plecs. A word and a blow - Jürgen spent a lot of time researching about different synthetic materials and finally ended up with a special composite delivering the same attack compared to the original tortoise plecs. Other than the original "house" plec Ritchie wanted the apex of the 1,5mm thick plec a tad rounder and in the end, Ritchie was more than pleased with the final result. Jürgen assigned a company to make this very special Blackmore version of the plec with most of the production run going to Blackmore, the rest remained in the possession of Jürgen. There is a second version of this plec sporting the same shape and thickness but out of a completely different material. This plecs are labeled "Rath Amp" and Jürgen used them as giveaways and kind of "appetizer" for the original version.
Sadly, Jürgen died untimely some years ago and out of his legacy the remaining original Blackmore plecs out of the first production run are for sale now.
––––––––
Blackmores Pleks
Ritchie Blackmore spielte, wie viele andere britische Gitarristen auch, in den '60er Jahren die "house plate" oder kurz "house" Pleks aus dem edlen Werkstoff Schildpatt (Schildkröten Panzer). In den 70er Jahren wurde durch das Artenschutzabkommen die Verwendung
dieses Materials verboten. Ritchie fand diese Form des Pleks optimal für seine Art, die Saiten anzureißen. Im Laufe der Jahrzehnte wurde dann der Restbestand der originalen "house" Schildpatt immer geringer. Seit den frühen 1980er Jahren war der deutsche Elektronik Spezialist, Gitarrist und mein Bruder im Geiste Jürgen Rath enthusiastischer Blackmore Fan. Jürgen wird später bei Hughes & Kettner die viel beachtete "Cream Maschine" entwerfen sowie maßgeblich an der Entwicklung der "Red Box" und des legendären "Tubeman" mitwirken, danach unter seinem Label "Rath Amp" eigene Halbleiter Geräte wie Gitarren Combos und Tops erfolgreich am Markt einführen. Es gelang ihm dann auch, mit Ritchie ins Gespräch zu kommen. Wenn Blackmore in Deutschland gastierte, wurde schon mal ein Marshall Major von ihm zum schnellen generalüberholen und Service zu Jürgen in dessen Werkstatt verbracht. So ergab es sich auch, dass Blackmore den Jürgen Rath beauftragte, einen geeigneten Ersatz für die immer schwerer zu beschaffenden "house" Schildpatt Pleks zu suchen. Gesagt – getan. Jürgen verbrachte viel Zeit mit dem Prüfen und Testen verschiedener Kunststoff Typen und wurde dann auch bei einem Material Typ fündig, der täuschend echt das Attack der alten Schildpatt Originale erzeugte. Gegenüber den original "house" Ausführung wünschte Ritchie jetzt aber eine um einen Deut softere Verrundung der Spitze der 1,5mm dicken Pleks. Letztendlich war Ritchie sehr zufrieden mit dem Ergebnis. Jürgen ließ dann diese maßgeschneiderten Blackmore Ausführung in großen Stückzahlen herstellen, viele gingen zu Blackmore, viele verblieben bei Jürgen zu dessen Verwendung und Verkauf. Später hat Jürgen noch eine kleinere Menge dieser "house" Pleks beschafft, diese aber nicht in der originalen Kunststoff Qualität, dafür aber mit dem Aufdruck: "Rath Amp". Diese verteilte er gerne als "give away" mit dem Hinweis auf die originale Ausführung. Leider verstarb Jürgen vor einigen Jahren viel zu früh, und aus seinem Nachlass steht nun die Restmenge der ersten Fertigungs Serie dieser originalen Blackmore "house" Pleks zum Verkauf an.